check your air quality

in the Netherlands

→
early mornings at my home here in Buttfuck, the Netherlands, I step outside and realize the smell of dog shit, cat pee and hypocrisy hasn't yet been masked by the alphabet soup (NO,NO2,NH3,SO2,S2H, etc).

on this day during my lifetime
wikipedia.org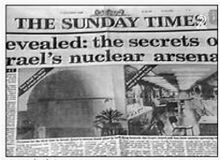 The Sunday Times ran the story under the headline: "Revealed: the secrets of Israel's nuclear arsenal."
---
Israeli secret nuclear weapons are revealed. The British newspaper The Sunday Times ran Mordechai Vanunu's story on its front page. (1986)
more...
source: Getty Images